SI

KE

LE

LA

TAPES
A film by: Djibril Cullis, Luke Johnstone, Tsogo Kupa,
Alex Sono & Matthijs Vuijk
NKOSI

_

SIKELEL'

_iAFRIKA_

MALUPHAKAM'

_

UPHONDO

_

LWAYO

_

YIZWA

_IMITHANDAZO_

YETHU

_NKOSI_

SIKELELA

_

THINA

_LUSAPHO_LWAYO

_
AN OMELETTE CANNOT BE UNSCRAMBLED...

Sikelela Tapes is a collaborative experimental film devoted to remixing, resampling and re-archiving the South African national anthem. The story is filtered through radio DJ, DJ Enoch, whom each of the filmmakers interacts with, and uses as an inspiration to explore their personal negotiations with the national anthem.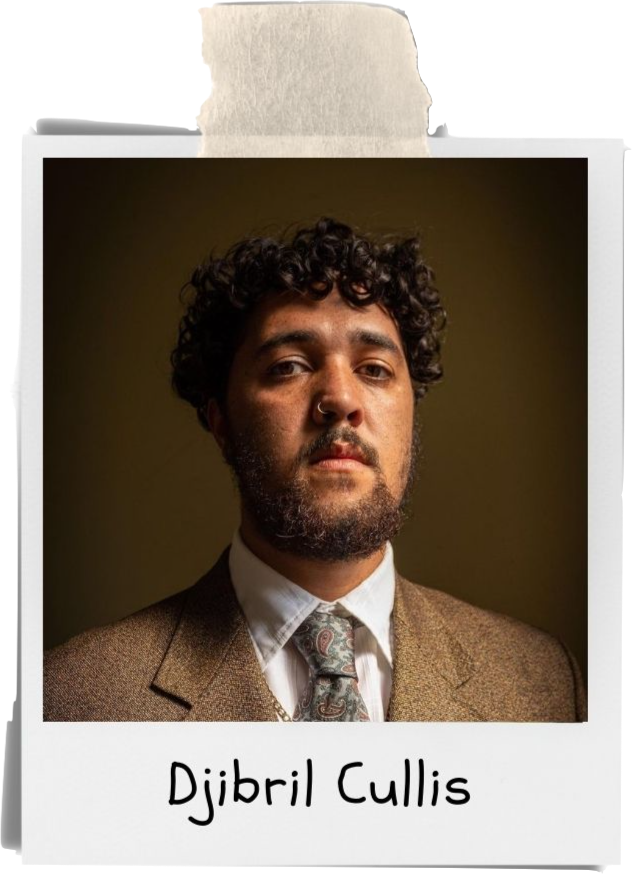 DJIBRIL CULLIS (1997, ZA) is a filmmaker and musician, he is currently completing his Honors degree at the University of the Witwatersrand. As a musician, Djibril has composed for multiple music groups, theatre productions, an online series supported by Converse, advertisement campaigns with Flying Fish beer and performed under electronic music duo Among Equals at the SystemRestartTV Boiler Room Festival in early 2021. Djibril's love for music has also led him to create an events company which has brought in thousands of people in attendance since 2018. As a filmmaker and film academic he is interested in unpacking narratives which deal with inter-generational trauma and myths associated with men in South Africa. At the end of 2020 he co-directed an award-winning film entitled Sikelela Tapes which has travelled to Zanzibar International Film Festival (ZIFF), Silwerskermfees hosted by KykNet, and most recently International Documentary Film Festival Amsterdam (IDFA).
LUKE JOHNSTONE (1998, ZA) is a musician and filmmaker currently studying Film and Television at Witwatersrand University. He is currently part of a three-person band called FAK3, a post-punk collective that explores narratives of youth identity in the city through music, video and performance. Luke was previously part of a collective called KOP which aimed to created safe spaces in Johannesburg for young people to party and express themselves.Luke was awarded best Experimental film for his work on My Father's Sun (2019) at the Wits film and TV awards. His latest film, which he co-directed with 4 other filmmakers, Sikelela Tapes (2020) has appeared in Zanzibar International Film Festival (ZIFF), Silwerskermfees hosted by KykNet, and most recently International Documentary Film Festival Amsterdam (IDFA). His
TSOGO KUPA (1998, ZA) is a writer & filmmaker who has recently graduated from The University of the Witwatersrand, earning his BA (Hons) in Film & Television, specializing in Directing & Screenwriting. His passion for storytelling is underscored by a desire to embolden the undiscovered and forgotten histories of South Africa, and in doing so, hopes to create authentically South African visual media. Throughout his career, he has been able to achieve this passion through having his student films screen across the world in Europe and Africa. His student work has been screened across Europe in Russia, Serbia, France and most recently, Amsterdam. Tsogo is currently working as a Videographer & Video Editor for the digital marketing company, Lux & Mode Digital. Where he's been able to expand and sharpen his interests in storytelling and marketing.
ALEX SONO (1998, ZA) is a filmmaker, actor and musician based in Johannesburg. He is currently pursuing a Masters in film at the University of Witwatersrand. Alex's career began with acting at the age of three as he performed in several commercials and television shows. Throughout the years Alex has starred in several successful South African TV shows, including Jozi H and most recently the South African adaptation of Ugly Betty, UBettina Wethu. His passion for performance had also drawn him to theatre. In 2019 Alex performed at the Grahamstown National Arts Festival a winner of the Wits O-Week Festival. In 2020 Alex spent the first semester of his honours in film at the the University of Gothenburg in Sweden as part of Linnes Palme Exchange programme. This experience is one he gives credit to for birthing his interests in merging the ethos of SouthAfrica theatre with the praxis of experimental documentary filmmaking.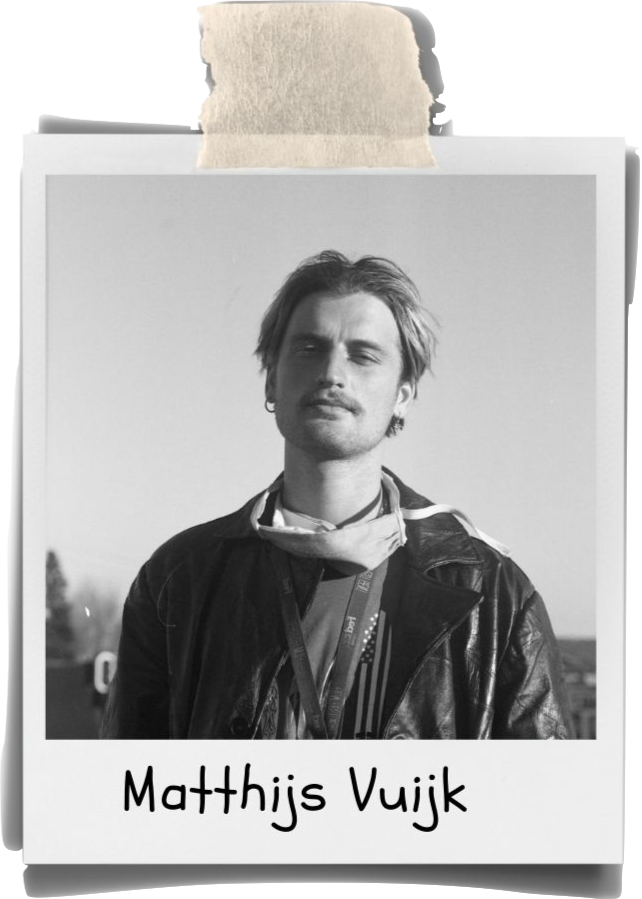 MATTHIJS VUIJK (1995, NL) is an independent new media artist and filmmaker who has been studying photography at the Royal Academy of the Arts in Ghent, Belgium, from which he graduated with distinction. After doing an internship with Dutch filmmaker Lara Verheijden, Matthijs moved to Johannesburg, South Africa. There Matthijs finished a Bachelor Honours in Film & Television at the University of the Witwatersrand (WITS) with distinction and participated in a collaborative VR project between the Filmuniversität Babelsberg and WITS. Matthijs' background in visual art, film and VR encompass his passion, which lies in the creation of captivating worlds through a strong visual atmosphere. He is formally and technically interested in different mediums while the important narrative factors within his work have a strong emphasis on emotions, intimacy and connection.
---